Publié le par pascal club AMI 76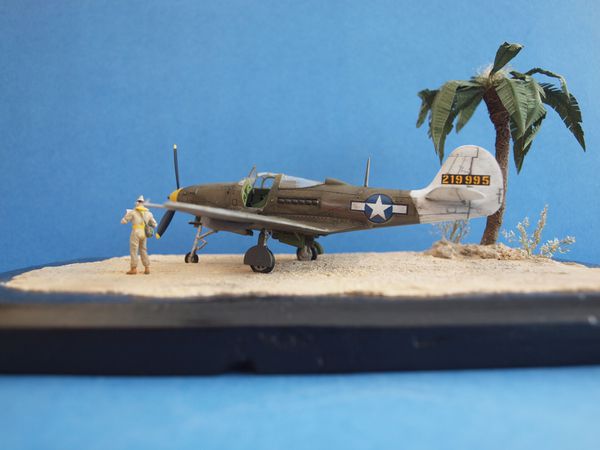 Encore un dans ma collection d'avion du Pacifique ,maquette hazegawa avec quelque rajout en détail cockpit et train d'atterrissage.
Shomo joined the Army Air Corps from Pittsburgh, Pennsylvania in August 1941.[2]
For over a year, Shomo was assigned to the 82nd Tactical Reconnaissance Squadron. His unit had moved from airstrip to airstrip along the northern coast of New Guinea and then to Morotai supporting General MacArthur's drive to the Philippines performing dangerous photo recon and ground attack missions. His squadron was equipped with older P-39 Airacobras and Curtiss P-40s, which were adequate for the photo recon/ground attack role, but too short-ranged to reach areas where they might encounter Japanese aircraft.
In December 1944, the squadron was given F-6Ds; Mustangs designed for armed photo reconnaissance. On 24 December, Shomo was put in command of the squadron and ordered to move it to Mindoro, an island off the southwest coast of Luzon, to support MacArthur's landing at Lingayen Gulf. During that landing on January 9, Shomo led his first combat mission in the squadron's new planes. The low-level reconnaissance was to gather intelligence on the air strength of Japanese in northern Luzon. They approached the Japanese airfield at Tuguegarao, where he scored his first air victory, an Aichi D3A "Val" dive bomber coming in on its final approach.
Shomo had been in the undertaker business before the war. He named all his aircraft "Snooks" (plus the appropriate numeral) to note this. The F-6D in which he won his Medal of Honor was "Snooks 5"; this aircraft was later lost while being flown by another pilot. The next F-6D was briefly "Snooks 6" but was changed to "The Flying Undertaker". Though Shomo flew more than 200 combat missions in World War II, he saw only a total of 14 enemy aircraft from his cockpit and destroyed eight of them.
Two days after his first victory, on January 11, 1945, Captain Shomo and his wingman, Lieutenant Paul Lipscomb, were heading north for the Japanese airfields at Tuguegarao, Aparri, and Laoag, when they saw several enemy planes flying south at about 2,500 feet (760 m). Despite being outnumbered, they immediately pulled Immelman turns and found themselves behind 11 Kawasaki Ki-61 "Tonys" and one Nakajima Ki-44 "Tojo" escorting a Mitsubishi G4M "Betty" bomber.
On their first pass through the formation, Shomo closed to less than 40 yards (37 m) before opening fire. He shot down four Tonys, then came up under the bomber, firing into its belly. The bomber caught fire and began to lose altitude as its pilot attempted to crash-land the plane. Two of the Tonys escorting the bomber stayed with it as it went down. Shomo pulled up in a tight vertical spiral to gain altitude while the Tojo turned to engage him. The Japanese fighter fired until it stalled and slipped into the clouds. The Betty exploded as it bellied in, and the two escorting Tonys broke away, staying low. Shomo made a second diving pass at the two Tonys and downed them both. In under six minutes, Shomo had shot down seven enemy planes, becoming an "ace in one day." (Only one other American fighter pilot scored more confirmed victories in a single mission: Navy Commander David McCampbell, with nine confirmed victories and two probables on 24 October 1944.) Meanwhile, his wingman shot down three of the remaining six planes. The three other Japanese planes fled.
By April 1, 1945, Shomo had been promoted to major and was awarded the Medal of Honor for leading an attack against heavy odds and destroying seven enemy aircraft.
From Wikipedia, the free encyclopedia.